Download a Free Southern Bleacher Brochure & Guide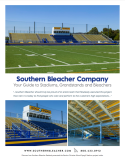 Our Southern Bleacher brochure is a quick read and a great way to get an introduction to our work, with plenty of photos, examples of bleachers and stadiums, and information about our seating, our support structures, our decking systems and more.
If you like what you see more (and we think you will), pick up the phone and give us a call. We're ready to answer any questions you may have or gather the initial information to lay the groundwork for your complimentary design. Click here to download your free copy of the Southern Bleacher Brochure.