Harrisonburg, VA - October 2009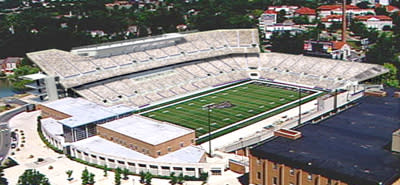 Founded in 1908, James Madison University (JMU) serves 18,000 students on its 680 acre campus and is the home of the Division I football "Dukes." In recent years, regular season success and post-season action has created recruiting momentum, but to take the program to the next level, visionary leaders recognized the need to upgrade current facilities. Numerous capital expenditures including the Bridgeforth Stadium expansion, will change the way JMU is perceived. The $45 million Bridgeforth Stadium renovation will be quarterbacked by Donley's (headquartered in Cleveland, OH) as general contractor for the project. Moseley Architects (Richmond, VA) in association with HKS, Inc. will direct the design and development. Nationally acclaimed Southern Bleacher Company of Graham, TX will translate this vision into reality.
The Bridgeforth Stadium renovation will include demolition of the existing west stands and reconstruction of a two-tiered complex in its place, construction of 4,200 permanent seats, rest rooms and concessions in the north end zone, additional seating for 9,100 premium seating such as suites and club seats and increased stadium lighting.
Phase I construction is scheduled to begin in late 2009 with the majority of the project work taking place during each off-season. The stadium expansion is set for completion prior to the 2012 season. Football season ticket and student seating accommodations will be maintained throughout the course of the expansion.
Features of the expanded stadium will include:
The demolition of the existing west stands (Home side) of Bridgeforth Stadium and the re-construction of a two-tiered complex in its place.
Construction of 4200 permanent seats, restrooms and concessions in the north end zone.
Additional phase I seating will total 9,100 bringing total capacity to 24,878.
New premium seating such as suites and club seats.
Additional seating that complies with the Americans with Disabilities Act.
Increased fan amenities such as concourses, concessions and restrooms.
Relocated press box in the west stands.
Increased stadium lighting.
Said Southern Bleacher contact, "As JMU heads into its second century of existence, the team is acutely aware of the JMU capital campaign theme: Looking back and moving forward. While most of JMU's current players won't get to play in the new stadium, they take pride in their roles in helping the program grow. At Southern Bleacher, we too take great pride in playing a crucial role in the next 100 years of JMU athletics."
Southern Bleacher's comprehensive services include budget analysis, estimates, proposal drawings and specifications at no cost. Clients will benefit from their vast experience in addressing the myriad of building-code requirements, accessibility issues, safety requirements and lines of sight that fans will cheer about.
Since 1946, Southern Bleacher's products grace soccer fields, college campuses, school districts, NASCAR tracks and rodeo arenas across the US.
From concept to reality, Southern Bleacher is customer driven. They work closely with planning committees and project architects to create a facility that is timeless and cost effective.
"We have made our mark in the industry by constantly finding new ways of addressing facility designs and seating systems required," Pettus said. "Solving our customers' needs, while providing superior and innovative products, has always been a top priority."
Southern Bleacher Company is a family owned and operated company that takes pride in their commitment to excellence.
For more information, visit: www.southernbleacher.com.
Media Contact:
Garrett Pettus
Marketing
Southern Bleacher
+1-800-433-0912