Petal, MS - October 8, 2009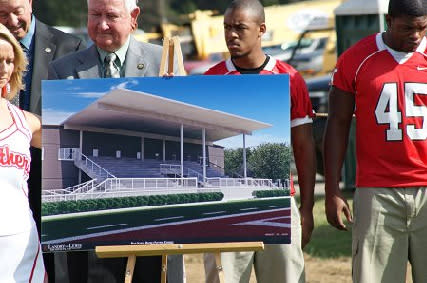 Petal School District administrators, local elected officials and Petal athletic booster club presidents became a part of Petal history as they officially broke ground for the new Petal stadium on October 8, 2009. The groundbreaking symbolized more than just a football stadium. Rather, the new 8,500 seat stadium will enable all fans to attend athletic events, band performances and other school and community events.
The stadium project, a collaborative project between architects Landry and Lewis Architects of Hattiesburg, general contractor Mac's Construction Company, Inc. of Hattiesburg, MS and much-heralded Southern Bleacher Company of Graham, TX, represents a landmark opportunity in keeping with Petal School District's motto "Empower all students to thrive." In fact, the new stadium will empower not just the football team to thrive, but provide an economic engine enabling Petal to thrive.
The stadium will be built behind Petal High School. The current Petal football stadium holds about 3,500 fans; the new stadium will increase seating to nearly 8,500. Home field seating will accommodate 5,999 seats and showcase an 8' x 126' sloped-front press box delivered by Southern Bleacher. Additionally, 645 premium, revenue-producing stadium chairs provided by Irving Seating Company will be a differentiating feature. Visitor seating will total 2,096 seats. To complete the stadium, dueling bands will deliver their fight songs and from a roofed, 308-seat bleacher configuration.
Said Southern Bleacher's Garrett Pettus, "This design and construction team brings an unequaled depth of knowledge. We all understand that overcrowding has been the norm at the present stadium. Our team, along with school officials, city leaders and the community, look forward to the changes the new stadium will bring to the Petal area."
Southern Bleacher's comprehensive services include budget analysis, estimates, proposal drawings and specifications at no cost. Clients will benefit from their vast experience in addressing the myriad of building-code requirements, accessibility issues, safety requirements and creating lines of sight that fans will cheer about.
Since 1946, Southern Bleacher's products grace soccer fields, college campuses, school districts, NASCAR tracks and rodeo arenas across the US.
From concept to reality, Southern Bleacher is customer driven. They work closely with planning committees and project architects to create a facility that is timeless and cost effective.
"We have made our mark in the industry by constantly finding new ways of addressing facility designs and seating systems required," Pettus said. "Solving our customers' needs, while providing superior and innovative products, has always been a top priority."
Southern Bleacher Company is a family-owned and -operated company that takes pride in their commitment to excellence.
For more information, visit: www.southernbleacher.com.
Media Contact:
Garrett Pettus
Marketing
Southern Bleacher
+1-800-433-0912