Flushing, N.Y., June 22, 2012 - Southern Bleacher Company, based in Graham, Texas, has completed its first project utilizing U.K.-based Intelligent Engineering's Sandwich Plate System (SPS), a new generation building material. The two companies combined their expertise in stadium construction to build grandstand seating at Court 17 of the New York City's USTA Billie Jean King National Tennis Center, home of the U.S. Open. The project marks the first use of Intelligent Engineering's SPS Terraces for outdoor grandstands in the United States.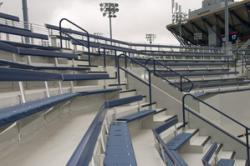 With the playing surface below ground level, Court 17 at Flushing Meadows Corona Park in Queens is nicknamed "The Pit" and features Irwin Seating's stadium chairs on concrete. The upper bowl is supported by a steel structure fabricated by Southern Bleacher and utilizes Intelligent Engineering's SPS Terraces to form the rake of the grandstands. Unlike any of the outer courts, this new facility allows more than 2,800 spectators an opportunity to view championship tennis. The design of the stadium was developed by Rossetti Architects with Anchor Contractors of Valley Stream, NY, serving as general contractor.
"This project is the result of the foresight and confidence shown by USTA, Rossetti Architects and Anchor Contractors as they continually look for new solutions to better service spectators and players. In constructing this new stadium, they elected to be the first U.S. outdoor stadium application of the SPS product and trusted us to provide them with a complete product," said Garrett Pettus, vice president of Southern Bleacher. "We are glad to be affiliated with Intelligent Engineering on this project and in developing what's been called "the first new materials technology for heavy engineering in 150 years' for more stadium seating in the United States."
"Judging from everyone's reaction of this first project, we anticipate fans throughout North America will be sitting on a lot more SPS Terraces soon," Pettus added.
Intelligent Engineering Holdings and Southern Bleacher Company have formed a strategic alliance that allows for enhanced stadium project development in the United States using SPS Terrace technology and products. Located in the U.S., Southern Bleacher Company will serve as the U.S. representative and primary contact and collaborating with Intelligent Engineering on project designs, estimates and specifications.
About Southern Bleacher Company
Southern Bleacher Company (www.southernbleacher.com) is the nation's largest and most experienced manufacturer of spectator seating, providing new construction and renovations for major league and university stadiums, NASCAR facilities, rodeo arenas and high school sports fields across the United States. Family-owned since its first day of business in 1946, the company has worked with architects, engineers, planning committees and contractors over three generations to set the standard of excellence in the design and manufacturing of entertainment venues, drawing on vast experience in building-code and safety requirements, accessibility issues and optimal lines of sight. Southern Bleacher's comprehensive services include budget analysis, estimates, proposal drawing and specifications, provided at no cost to create facilities that are aesthetically pleasing, spectator-friendly and cost effective.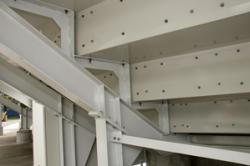 About SPS Terraces
Intelligent Engineering's Sandwich Plate System is a structural composite comprised of two metal plates bonded with a polyurethane elastomer core. The resulting material is more robust than stiffened steel plate and lighter and fast to erect than reinforced concrete. Precise prefabrication allows for shorter, safer, lower-cost construction programs with less "wet-work" on site. When used as an alternative to concrete, SPS Terraces offer comparable performance at one quarter of the weight with the added benefits of greater durability, dampened vibration and built-in acoustic insulation. SPS Terraces were recently used to expand seating at the Aquatics Centre in London's Olympic Park from 5,000 to 20,000 for the 2012 Olympics.
Southern Bleacher Media Contact:
Garrett Pettus
Vice President, Southern Bleacher
gpettus@southernbleacher.com
(800) 433-0912