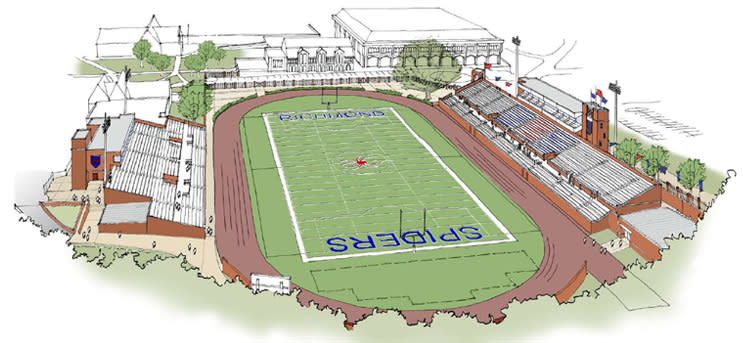 RICHMOND, VA - December 15, 2008 - The University of Richmond is bringing Spider sports back on campus. With Richmond City Council approval and the architecture designs complete, First Market Stadium will break ground spring 2009. The project will be a dream come true for the faculty and students of Richmond.
Southern Bleacher Company of Graham, Texas was chosen by the general contractor, Hourigan Construction, along with the architectural firms BCWH and McMillian Smith & Partners to make the project a successful one. With expertise and a commitment to excellence, it was no surprise Hourigan looked to Southern Bleacher to work on the multi-purpose outdoor stadium.
The First Market Stadium project will hold 8,700 spectators and bring new growth and development to the university and the city. The stadium will boast Southern Bleacher's Interlock 2000 aluminum decking with integral drainage system. Edward L. Ayers, president of the university, said, "Our new facility will provide opportunities to bring together students, parents, staff, faculty, alumni, neighbors and members of the broader community for sports events and activities. I am grateful to our many donors who make this project possible, and also for the strong community support that has helped us to reach this milestone."
About Southern Bleacher: 
Since 1946, Southern Bleacher's products grace soccer fields, college campuses, school districts, NASCAR tracks and rodeo arenas across the US. From concept to reality, Southern Bleacher is customer driven. They work closely with planning committees and project architects to create a facility that is timeless and cost-effective.
Southern Bleacher's comprehensive services include budget analysis, estimates, proposal drawings and specifications at no cost. Clients will benefit from their vast experience in addressing the myriad of building-code requirements, accessibility issues, safety requirements and lines of sight that fans will cheer about.
Southern Bleacher Company is a family owned and operated company that takes pride in their commitment to excellence.
Media Contact:
Garrett Pettus
Marketing
Southern Bleacher
+1-800-433-0912